Inna Zharuk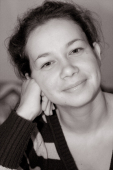 Hello, guys!
My name is Inna Zharuk and I love English grammar! For many years I have been teaching grammar at various levels to different students. This has certainly helped me to develop a bunch of ideas how to turn boring rules into easy and fun activities.
I have created my grammar podcasts to help all English learners to save their time and get the most out of simple and user-friendly explanations.
I hope you will find my podcasts useful and interesting! And I will do my best to support you by writing many more easy things to help you master your English grammar!